New Hummingbird Google Algorithm Update Complicates SEO
On October 1st, Google announced a rewritten algorithm called Hummingbird. The announcement stated that the new algorithm was released a month or so ago. Google is being extremely tight-lipped about the update and its exact effect on rankings, but we know that longer-tailed keyword streams that relate to searches for specific useful content, social shares, and the longer search phrases that occur in voice search, as well as Google Authorship, are key components of the change.
Google claims that these changes should not affect rankings, and we have not seen rankings affected for our clients, but the chatter online continues to focus on the changes on August 24th and September 12th related to this update.
Product Descriptions: Not Necessarily Unique Content?
Product descriptions, which have been shared amongst numerous ecommerce sites for years and have been re-written to be unique content by many SEO firms and webmasters, may not need to be unique, according to recent comments from Google's John Mueller during Google Webmaster Hangout. If you jump about 20 minutes into the video, you will hear the following:
"Let's say a company uses product descriptions on their own site and at the same time provides the descriptions via a database to official retailers who might reuse them on their website. How can correct content attribution / ownership be ensured?"
John answered that in these cases, Google doesn't look into the ownership of the content. See the comments below:
"So, for example, if there's an online store that's selling a book, and it's selling it worldwide, and there's also a local bookstore that's selling the same book and on the site they have the same description as the big general online store, and if we can recognize that a user wants to find local content, then maybe we'll show them the local version.
And if we can recognize that the user doesn't want to find just local content but something maybe they can buy online, then maybe we'll show them the global version…
So it's not something where we'd say that if you wrote this product description your site will always be ranking for queries for that product description, but rather we'll try to show them the appropriate version that matches what we think the user is looking for."
This changes the focus from unique product descriptions in ecommerce to content that identifies the site as the best response for that search in the scope of what the searcher is seeking.
Internet Advertising Bureau: Digital Ad Revenues and Search Revenue Up From Last Year
Total digital ad revenue in the United States for the first six months of 2013 was just under $20.1 billion, versus $17 billion in the same period of 2012. Mobile ad spending represented 15 percent of the total. Search revenues were up to $8.7 billion, a 7% increase from last year. The full results are broken out below: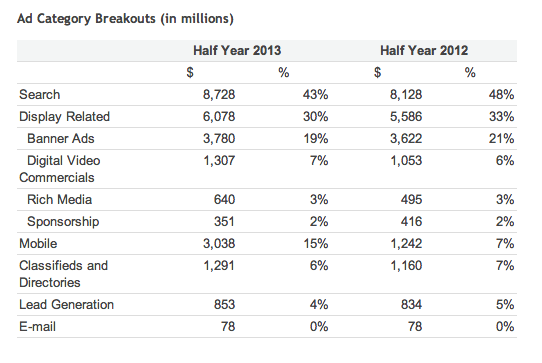 Bottom Line: Is Google making organic search so difficult to optimize that the cost will become prohibitive for most small to medium sized businesses? Will PPC and Display ads, along with social media and other strategies, overtake SEO? This is a trend that bears watching as businesses continue to improve tracking of their metrics and the return on investment from their online ad dollars.
Eric Van Cleave is a Partner in Zenergy Works, a Santa Rosa, California based SEO, Website Development and Online Marketing Firm.